Tactical Series Red Dots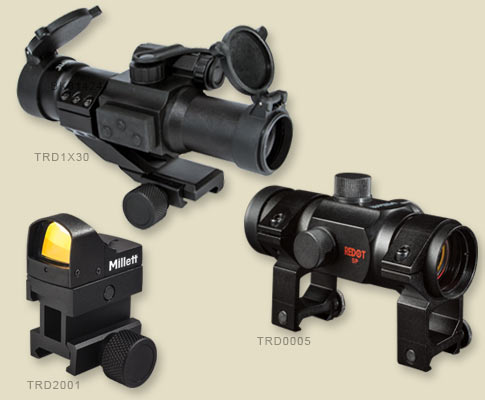 Built for Speed and Precision.
Tactical Series™ Red Dots. The most reliable, rugged red dots you'll find when looking for speed and accuracy in a sight for your tactical fire arm. Whether you are putting this on an AR flat top, shotgun or pistol, the Tactical Series Red Dots are the answer.
M-Force TRD1X30
This multi-purpose 5 MOA red dot sight features 10 selectable brightness settings, flip-up scope caps and a 30mm one-piece cantilever mount for optimum sight height for AR flat tops.
M-Pulse TRD2001 For shotguns, rifles or pistols, this compact sight with 5 MOA red dot is fully waterproof and shockproof. The all aluminum red dot has a self-regulating brightness control. The supplied riser block positions the sight at optimum height on AR-15 flat tops.
Speed Point TRD0005
This 5 MOA red dot sight with 11 selectable brightness
settings includes scope coversand tactical rings for proper mounting height on AR-15 flat tops.
Features
Waterproof and shockproof
Precision-click adjustments for windage elevation
Dot intensity control switch with eleven settings
Parallax
30mm Red dot provides an extra-wide field of view, the widest in its class
Item
Model
Tube
Reticle
Finish
Weight/Length


oz / g | in / MM

Click Value


@1000 yds.

TRD0005
1x 24mm
30mm
5 MOA
Matte
4.8 / 136 | 4.35 / 110
.5" in.
TRD1X30
1x 30mm
30mm
5 MOA
Matte
7.4 / 210 | 6.3 / 160
.5" in.
TRD2001
-
-
5 MOA
Matte
2.7 / 76 | 1.8 / 46
.5" in.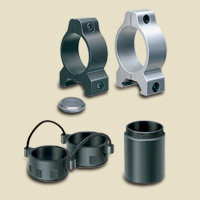 All accessories included with purchase of a Red Dot™ Sight.